Events
December 5th, 2018
Are you a neuroscience researcher looking to develop collaborative projects with industry, not-for-profit or international university partners?
Attend the BrainsCAN-Mitacs information session on December 5th to learn how.
---
Open Science Presentation
November 13th, 2018
Open science practices help make research accessible, transparent and replicable. On November 13, join Lien Peters and Eric Wilkey from Dr. Daniel Ansari's Numerical Cognition Lab for a presentation on open science. Lien and Eric will present on the open science practices they learned while attending the Open Science at University College Cork workshop, supported by BrainsCAN.
---
November 12th, 2018
In this Physiology and Pharmacology seminar series, BrainsCAN Tier 1 Research Fellow, Amy Reichelt will speak about the impact junk foods have on learning and memory. Join BrainsCAN for this informative talk on the neural mechanisms underlying how junk food diets impact cognition.
---
October 22nd, 2018
Many children struggle with learning how to read. But what are the underlying problems, and how are reading disorders identified? Join Western University's Dr. Marc Joanisse for a public lecture. He'll discuss his research on the study of language and reading disorders, including dyslexia.
The event is supported by a Ministry of Education grant and is offered in partnership with the Learning Disabilities Association of London Region, the London Public Library and BrainsCAN.
---
October 18th, 2018
Join Western Women in Neuroscience and BrainsCAN for a talk on women in science initiatives in Australia by Dr. Emma Burrows. Dr. Burrows leads a research program aiming to understand the neurobiology underlying cognitive disorders at The Florey Institute of Neuroscience and Mental Health in Australia. Attend this session to hear Dr. Burrows discuss her career as a woman in neuroscience.
---
July 16-20th, 2018
This Project Week is a hands-on activity in which medical image computing researchers and students create solutions using the image computing platform, 3D Slicer, and its  CMake , VTK, and ITK components. It is intended for novices as well as experienced users, focusing on learning the basics, developing programs, and interacting with world experts in this exciting field.
Participants arrive with a project that has been discussed during a series of pre-meeting conference calls with workshop leaders.
Bi-weekly Pre-Meetings will be held via Google Hangouts to gather information from participants to guide the structure of the project week. 
---
July 10th, 2018
Cutting-edge touchscreen-based technology is the basis of the research taking place through the Rodent Cognition Core at BrainsCAN. Using a touchscreen chamber, researchers are able to conduct cognitive tests, gaining insight into disorders and diseases including Parkinson's, Alzheimer's and schizophrenia.
The Rodent Cognition Core is hosting an information session on Tuesday, July 10. Western University  neuroscience researchers who attend will learn how to access the state-of-the-art rodent touchscreen facility, subsidized through BrainsCAN. Learn more.
---
May 2-6th, 2018
The Brainhack Western 2018 is an official satellite event of Brainhack Global 2018.
The two days of education provided by the Centre for Functional and Metabolic Mapping (CFMM) are targeted at allowing all the researchers at Western to learn more about neuroimaging acquisition and analysis.
The goal of the hackathon is to bring together researchers and trainees with disparate backgrounds to collaborate on open science projects in neuroimaging and neuroscience. Brainhack projects are pitched on the first night, and attendees will form into teams to work on these projects over the next two days. Tutorial sessions on a variety of topics will be held throughout for attendees to learn new skills.


---
April 21st, 2018
The London Brain Bee is an annual neuroscience outreach program for students in grades 9-12 from London and surrounding areas. The aim of this daylong event is to motivate high school students to learn about the brain and inform them about the role of neuroscience in research and medicine. The day is comprised of a trivia event, mock diagnoses, neuroscience demonstrations and an anatomy scavenger hunt.  The London chapter of the Brain Bee is one of 15 competitions across Canada, where the winners advance to the Canadian National Brain Bee. The winner of the Canadian National Brain Bee represents Canada at the international competition. The London Chapter of the Brain Bee is organized by students from the Brain and Mind Institute, the Schulich School of Medicine and Dentistry, and the faculties of Neuroscience and Psychology. This year, 36 high school students from 12 different high schools attended the event. BrainsCAN was thrilled to be a supporter.
---
March 7th & 8th, 2018
Recent developments in cognitive neuroscience have led to exciting new possibilities for understanding consciousness. Much of this work has been carried out with fMRI; however, similar approaches can be developed with cost-effective and portable technologies, such as EEG, that could provide potentially better outcomes due higher temporal resolution.
With the goal of promoting interactions and future collaborations, this workshop will bring together investigators and trainees with complementary expertise in cognitive neuroscience, functional MRI, and EEG to discuss new ways in which EEG data could be used to extract signals of relevance to the study of mental states, both from a basic-science perspective and a clinical perspective. 
---

March 4th, 2018
The Inspiring Young Women in STEM Conference aims to inspire, engage, and empower young women who are considering a career in STEM (Science, Technology, Engineering, and Mathematics) by connecting them with role models in leadership positions, cultivating early research skills, and providing networking opportunities with the STEM industry within the context of a supportive community.

Undergraduate and graduate students of all genders 
are invited to attend this one-day conference to hear from four key leaders in academia and industry discuss their exciting research and inspirational career paths, network with professionals at our Industry Fair, learn about research opportunities at our STEM Graduate Program Expo, and have the unique opportunity to present your own scientific research in the Undergraduate Poster Competition.
---
January 30th, 2018
Our understanding of how age affects the mind and brain is largely based either on tightly controlled, though largely artificial, experimental tasks or, on the completely uncontrolled resting state. Neither of these approaches is ideal, as the former introduces a number of task demands (e.g. maintaining instructions, decision making) that are usually external to the cognitive process under investigation (e.g., language comprehension), while the latter offers no control over participants' thoughts whatsoever. In this talk, I will advocate for a more naturalistic approach to neurocognitive aging – driving neural activation with stimuli that more closely approximate everyday life and measuring age differences (or lack thereof) in resulting network responsivity/connectivity.


---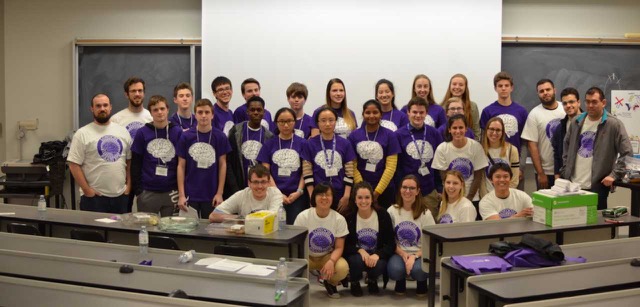 April 22nd, 2017
High school students in London and surrounding area* from grades 9 through 12 are invited to compete in a one-day neuroscience outreach event at Western University in London, Ontario! This event is completely free for students. The London Brain Bee consists of a trivia competition, demonstrations of behavioural neuroscience experiments at the Brain and Mind Institute, mock patient diagnosis sessions and a neuroanatomy bell ringer featuring real human brain specimens!
---
March 27th, 2017
Dr. Ravi Menon gave a presentation to the Brain Tumour Foundation of Canada about the funding announcement that the BrainsCAN initiative at Western received from the government last fall, and plans for the work that will be done with the funding.  


---
March 2-4th, 2017
The goal of the hackathon is to bring together researchers and trainees with disparate backgrounds to collaborate on open science projects in neuroimaging and neuroscience. Brainhack projects are pitched on the first night, and attendees will form into teams to work on these projects over the next two days. Tutorial sessions on a variety of topics will be held throughout for attendees to learn new skills.