Q&A: Building BrainsCAN – A Discussion with Lisa Saksida and Ravi Menon
Q&A: Building BrainsCAN – A Discussion with Lisa Saksida and Ravi Menon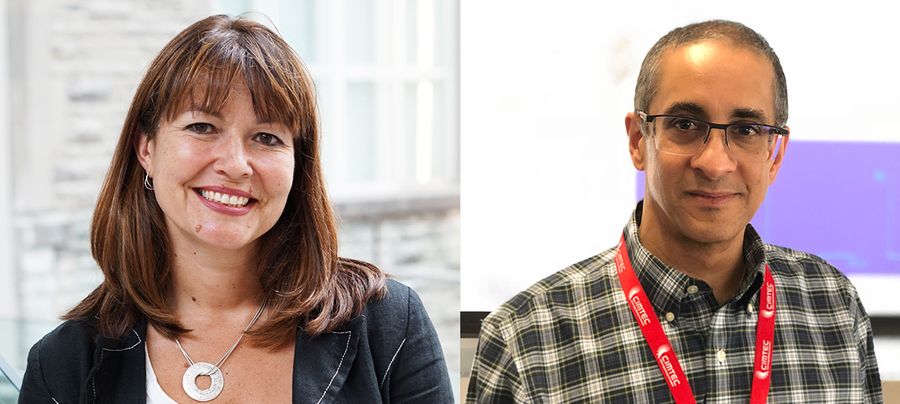 In September 2016, BrainsCAN received a 7-year, $66 million investment from the Government of Canada through the Canada First Research Excellence Fund (CFREF).
This month, BrainsCAN is celebrating its 2nd anniversary. How did it all start?
(Lisa Saksida) Disorders that affect the brain are a huge issue facing our society, and this will only get worse as our population ages. But unfortunately over the last 30 years few new treatments have been discovered. Because these disorders affect cognitive function – including problems with memory, attention, learning, problem-solving and communication – it is really important that we understand how these functions relate to the brain. This is what the field of cognitive neuroscience aims to do.
Western University has been tremendously supportive of cognitive neuroscience and has invested a lot in building the area. The success of this investment led to the decision that Western should put an application into CFREF. I remember it was my first week at Western and a group of us sat together to figure out how we could use funding from CFREF to take Western's cognitive neuroscience to the next level. The process of building the proposal unfolded from there.
(Ravi Menon) The development of BrainsCAN was a natural progression, driven in large part by many researchers here at Western who understand the importance of working together. We are a powerhouse in human cognition, we have very strong animal research groups here and we have clinicians who use cognition in different ways, from psychiatry to neurology. The idea was to unify those researchers under one umbrella.
What's the ultimate goal of BrainsCAN?
(LS) One of BrainsCAN's major efforts is to build on our already hugely successful cognitive neuroscience program by getting people who have not previously worked together to work together. Funding for BrainsCAN is allowing us to capitalize on our already fabulous foundation and take it to the next level by giving us the resources we need to utilize our existing infrastructure more effectively, to build capacity in strategic areas and to facilitate the collaboration across labs, across techniques, across species and across levels of analysis that is so essential to making this enterprise work.
(RM) BrainsCAN is aiming to get clinicians, animal researchers and people who study the normal brain to use the same tools and ask the same questions and apply the answers across species. We need to figure out how the brain works, because you can't figure out what's wrong unless you understand how the normal brain operates. We have all these different research components and we need to get all these researchers talking together and asking questions that each other can help answer. Some institutions do imaging, some do behavior, but very few try to unify these across species and across disciplines. That's what BrainsCAN is working towards and that's really powerful – there are very few places that do it.
How is BrainsCAN unique?
(LS) One of the fundamental problems and one of the reasons we haven't developed many new treatments for disorders that affect the brain is because reaching across the different levels that we're working at is really difficult. Having a molecular biologist speak to someone who works at the circuitry level to someone who works in high-level psychology – they're very different fields, and the gaps between them make it difficult to take what we've learned at the molecular-cellular level and translate that to relevant human outcomes. So, at BrainsCAN, our programs encourage that kind of interdisciplinary interaction and I think that is going to be key to developing cognitive neuroscience toward new treatments in the future.
(RM) We have a lot of amazing infrastructure here, and we have by far the most sophisticated animal and human imaging in the country, but more importantly, that infrastructure and research is connected to human patients and animal models of disease. It's the only place in Canada that is integrated across species to the extent that we are. It's integrated because we're using common behavioral and common imaging techniques. BrainsCAN, through all its different programs like the Postdoctoral Fellowship Program and the Accelerator Program, is trying to get researchers from different disciplines to work on problems together.
How do researchers outside of Western benefit from BrainsCAN?
(RM) The biggest group of researchers who benefit are those at McGill University, because of BrainsCAN's collaboration with McGill's Healthy Brains for Healthy Lives (HBHL) initiative. This collaboration incentivizes scientists in the two universities to work together.
(LS) Our collaboration with McGill is extremely important because they are working in the same area, but they have different core strengths than we have, so building collaborations between Western researchers and McGill researchers across different areas of research or different research foci is really key.
(RM) We also have some peripheral collaborators from many other universities who are able to use our core facilities at BrainsCAN rates. If they have questions that align with the BrainsCAN mandate, then they're able to do things in the imaging core, computational core, etc., that their own institutions may not have or are cost-prohibitive in some way.
How does BrainsCAN impact researchers at Western?
(LS) In the short time that we've been around, we've funded a lot of interesting collaborative programs and I've seen people working together who have not worked together previously. In some cases, people who have not worked in the area of cognition before are turning their skills toward the area. It's great to see that kind of interaction. We've also brought in brilliant early career researchers as part of our postdoctoral program from around the world who have all sorts of new ideas and are adding lots of new energy to what we're doing here.
(RM) One of the biggest areas of impact is that it's reducing the barriers to doing research by reducing costs. The cost to access the technologies and the expertise to actually do the work is paid for by BrainsCAN, or paid in large fraction by BrainsCAN. That allows researchers to do things they couldn't do before, or do much larger cohorts of patients, for example, because the BrainsCAN research cores are available. So even if you get nothing else outside of BrainsCAN other than those reduced rates – and in the case of the imaging facility, it's one third the price – you can work with three times as many participants.
How has BrainsCAN impacted your research?
(RM) Lisa and I oversee a Postdoctoral Scholar together. We're in two very different research fields, and we probably would not have collaborated historically at most institutions. Now, thanks to BrainsCAN, we have a postdoc who is bridging that gap. Those are the kinds of things that are new directions for me that I wouldn't have gone in normally.
(LS) Another example is that I'm now working as a part of the McGill-Western collaboration. Mark Brandon and Sylvain Williams at McGill have these very cool neural technologies to understand the brain that we're combining with our technologies here at Western to understand cognition. By bringing those two technologies together, we're going to develop a much better understanding of the specifics of how the brain is involved in cognition that can be used for developing new treatments.
Where do you see Western's neuroscience research in five years?
(LS) In five years from now, I see cognition remaining as the central focus, but researchers will be working together and approaching cognition from all different ways – from the molecular-cellular level to the human behavioural level, using technologies like imaging, touchscreens and computational methods to bridge across levels.
Societal impact will also be key: By better understanding neurodevelopmental disorders like autism, dyscalculia, dyslexia and childhood depression, we can provide better diagnoses and educational tools that improve outcomes for our children, ensuring they don't fall behind in life. Our work will improve quality of life by addressing disorders of consciousness and of motor control brought on by, for example, stroke or neurodegenerative disease. And we will support healthy aging by helping to assess and design optimized hearing aids that leverage our expertise in disorders of hearing, and by better understanding cognitive deficits in neurodegenerative disorders like Alzheimer's and Parkinson's disease.
(RM) There's very little you can answer by only looking at imaging or some molecular pathway. If you can get all of those researchers together, like BrainsCAN is trying to accomplish, then you can be a powerhouse.  


BrainsCAN is Western University's $66 million Canada First Research Excellence Fund initiative in cognitive neuroscience. BrainsCAN aims to transform the way brain diseases and disorders are understood, diagnosed, and treated through innovative funding programs and access to BrainsCAN's five research cores.