MD/PhD Students
Students in the MD/PhD program carry out their doctoral research through one of the graduate programs at Schulich School of Medicine & Dentistry. Our students work collaboratively with their professors and have the opportunity to work with world-class research scientists with state-of-the-art equipment. Research is conducted in clinical laboratories at Schulich Medicine & Dentistry, Robarts Research Institute, Western University, and at a number of our partner sites across the city of London, including London Health Sciences Centre, St. Joseph's Health Care London, and Lawson Health Research Institute.
---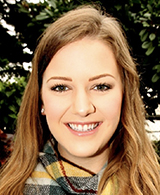 Maggie Prenger
MD/PhD Student
Supervisor(s):
Dr. 
Adrian Owen, Dr. Penny MacDonald
Research Information:
Maggie is primarily interested in how emotion processing and social cognition are affected by Parkinson's disease. Using functional magnetic resonance imaging and electromyography, she is investigating the role of brain and facial muscle activity in emotion recognition. Maggie is also looking at brain activity during the comprehension and appreciation of jokes. The results of these investigations will inform about the role of dopamine in brain regions responsible for important social processes. She will also gain knowledge regarding the relatively understudied emotional and social symptoms of Parkinson's disease, and how best to treat these symptoms.