RIKEN CBS Summer Program untangles the brain for BrainsCAN researchers
RIKEN CBS Summer Program untangles the brain for BrainsCAN researchers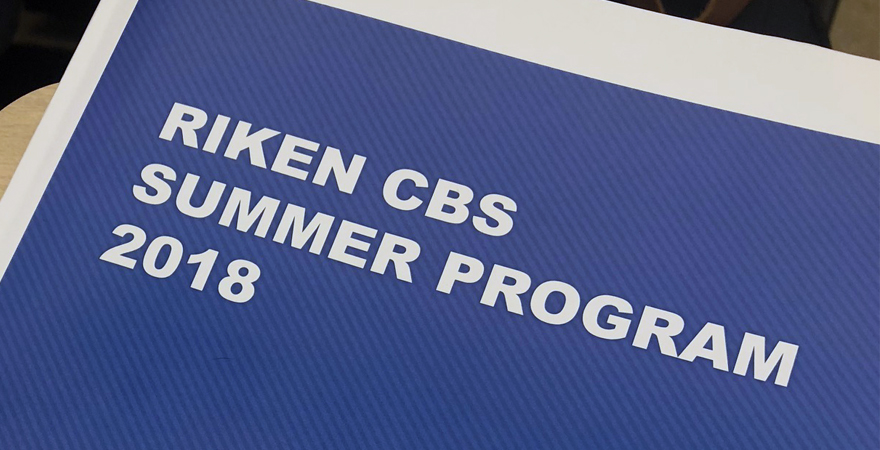 Traveling to one of the highest-ranked research centers in the world to learn from world-renowned neuroscientists was the experience of BrainsCAN researchers, Amy Reichelt and Kaitlin Laidlaw this summer.
From July 9-13, Reichelt and Laidlaw were joined by approximately forty-five early-career researchers from 13 countries to take part in the RIKEN Centre for Brain Science (CBS) Summer Program lecture course at RIKEN CBS in Tokyo, Japan. The prestigious, highly selective program is designed to accelerate the professional development of early-career neuroscientists and emerging researchers as they enter the international neuroscience community. For Reichelt and Laidlaw, who are BrainsCAN Postdoctoral Scholars, it was a chance to learn about leading-edge brain research currently taking place in top research labs at RIKEN CBS and around the world. 
"The lectures were really interesting," said Reichelt, who is researching the impact of diet on the development of the brain. "The techniques and science being used and discussed were really cutting-edge."
"The questions [asked by the attendees] were really thought-provoking, so that was really nice to be a part of," added Laidlaw who is researching social cognition and its neurological mechanisms.
BrainsCAN's newly developed relationship with RIKEN CBS gave Reichelt and Laidlaw the opportunity to attend the Summer Program lecture course. The week-long lecture series centred on the theme, Untangling the Mysterious Brain. During the week, 13 renowned neuroscientists discussed topics on learning, cognitive brain mapping, psychiatric disorders and more. 
"We learned about research that looks at biomarkers of mental illness, particularly in schizophrenia," said Laidlaw. "It was inspiring to hear about the ways in which basic research was being translated in ways that could potentially help predict clinical outcomes." 
It wasn't just the lectures that were beneficial for the researchers attending the Summer Program, the lab tours were also highly regarded as it gave the attendees a chance to observe research in action.
"I got to look around the [lecturer, Thomas McHugh's] lab, which was really interesting because we could see how he set it up. His team showed us what research they're doing at the moment, which was really fascinating," said Reichelt. "It was exciting to see the kind of research technology that we want to set up here; they've got it up and running in these labs."
The RIKEN CBS Summer Program lecture course takes place each year to introduce early scientists to the cutting-edge research taking place around the world. BrainsCAN will continue to work with RIKEN CBS to connect BrainsCAN's promising early-career neuroscientists with opportunities to participate in this important program.
For more information about RIKEN's Summer Program lecture course, please visit: https://cbs.riken.jp/en/summer/