BrainsCAN expands globally with Cardiff University partnership
BrainsCAN expands globally with Cardiff University partnership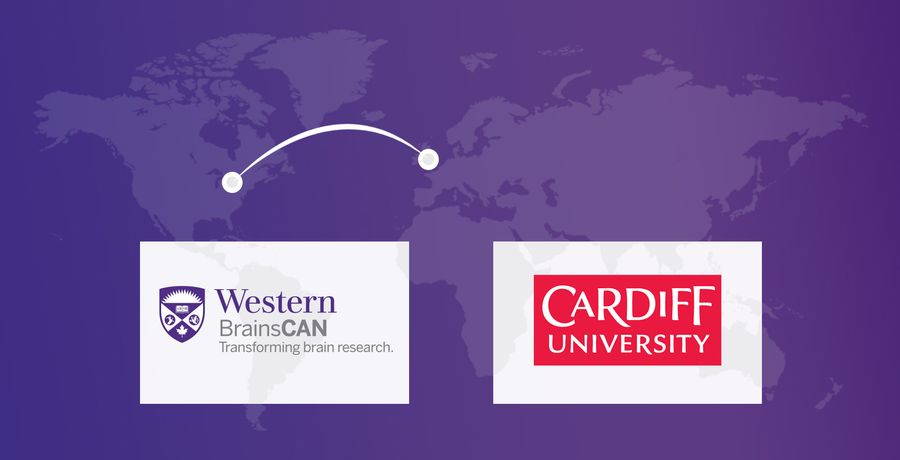 BrainsCAN, Western University's neuroscience research initiative, is continuing to expand its global presence with a new memorandum of understanding (MOU) with Cardiff University in Wales, UK. Through this MOU, BrainsCAN and Cardiff researchers will build collaborative, high-impact neuroscience research projects to develop and deliver evidence-based assessments for the diagnosis and treatment of brain disorders. 
"This formal partnership is the result of a longstanding relationship with researchers at Cardiff University," said Dr. Lisa Saksida, BrainsCAN Co-Scientific Director. "We are thrilled to build on this partnership and bring together world-class cognitive neuroscience research from both institutions to benefit those affected by brain disorders and disease."
"I am delighted by the recent signing of a MOU between the College of Biomedical and Life Sciences, Cardiff University, and BrainsCAN, Western University, Canada," said Dr. Kim Graham, Pro Vice-Chancellor Research, Innovation and Enterprise, Cardiff University. "Reducing the considerable burden of brain disorders, by enhancing diagnosis and treatments for patients, requires international collaboration, and the two institutions share considerable, and synergistic, research expertise in neuroscience, brain imaging, mental health, neurodevelopment and dementia."
As part of this partnership, BrainsCAN researchers will have the opportunity to work closely with Cardiff researchers to share expertise and resources. Postdoctoral fellows and students from both institutions will also benefit from increased exposure to world-renowned principal investigators from Western and Cardiff. 
"Our new partnership will provide staff and students at both institutions with the chance to forge innovative collaborations based on their joint expertise and knowledge," added Graham. "This will help forge stronger research links between Wales and Canada, thereby delivering research of global benefit to patients and society."
This is the third research MOU BrainsCAN has established since its inception in 2016. Other MOUs have been signed with RIKEN Centre for Brain Research in Japan and Yonsei University in South Korea. BrainsCAN's continued global partnership expansion formalizes collaborative research projects between BrainsCAN and institutions around the world. This expansion ensures that BrainsCAN researchers can broaden their work globally, generating world-leading research projects on brain disorders and diseases.
The BrainsCAN and Cardiff partnership officially begins January 2019.
Opportunities for BrainsCAN-aligned researchers to connect with Cardiff will be posted on BrainsCAN's website when available. For further information, please contact brainscan@uwo.ca.