Olympic medalist shares mental health journey at BrainsCAN Research Impact Day
Olympic medalist shares mental health journey at BrainsCAN Research Impact Day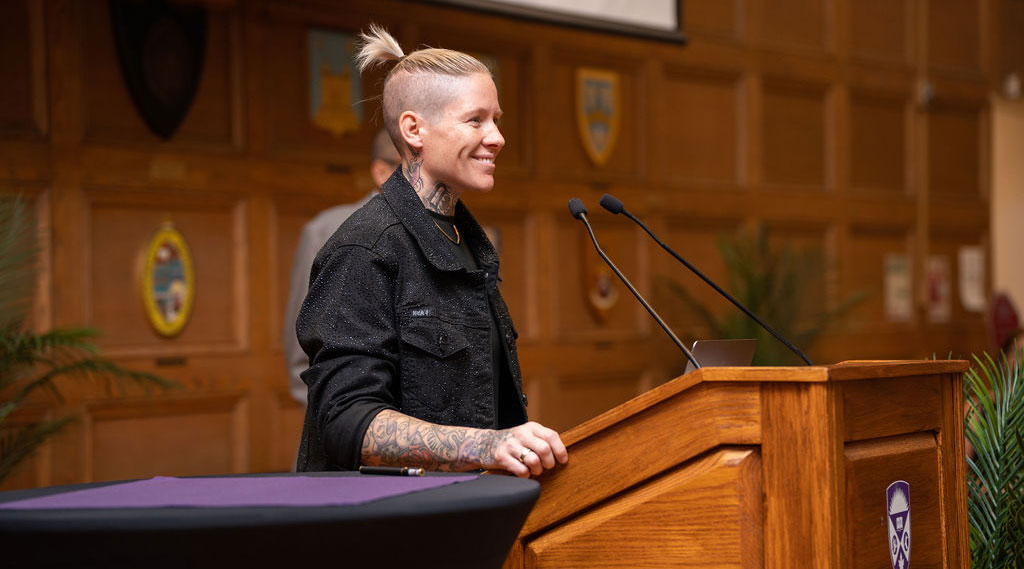 As far back as she can remember, Jen Kish has always had a special relationship with pain.
"I considered pain a friend," she said during her keynote address at Western's BrainsCAN Research Impact Day.
The former captain of Canada's women's rugby sevens team, who won Olympic bronze at Rio 2016, is known as one of the best female sevens players in the world. But her time playing professional rugby came at a cost.
The Unseen Wounds We Carry
Growing up, Kish saw sports as her savior. With an absent alcoholic mother and a father who worked two jobs, sport was the one place she could go to be surrounded by people who cared. It's where she felt at home.
At just 15, she started playing rugby. She switched to the lesser-known sport at the advice of her high school football coach who saw her potential.
Excelling at the sport, she later went on to captain Canada's women's rugby sevens team and was named Player of the Year two years in a row.
Despite her on-field success, Kish struggled off-field, battling mental health issues.
"Being on-field was everything to me," said Kish. "It made me feel strong. It gave me sense of worth and value. Rugby on-field made me feel like a superhero. But off-field, I didn't feel like a hero. I felt confused and lost."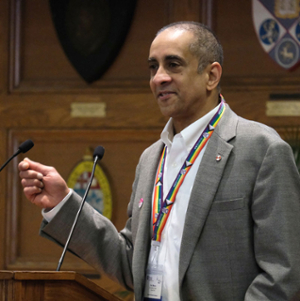 Kish attributes some of those feelings to the five major concussions she obtained during her time playing professional rugby. Concussions including the one she suffered at the 2013 World Cup.
"We were playing Netherlands. It was in the quarterfinal match, so it was a big game. When you're in a World Cup tournament, one loss and you're done," said Kish who was captain of the team.
With only two minutes to go in the game, Kish took an elbow to the chin from an opposing player and blacked out on-field. Despite the injury, the pressure to perform for a medal was high and after regaining consciousness, she continued to play.
"Every time I ran, I felt like my brain was smashing against my skull," remembered Kish. "But I felt that if I came off the field, I wouldn't be worth anything."
The team went on to win silver – the first team in the history of Canadian rugby to secure a medal at a World Cup. They followed with gold at the 2015 Pan American Games and bronze at the 2016 Olympic Rio Games.
Olympian to Mental Health Advocate
Kish's persistence to play through her injuries finally took its toll. In 2018, after suffering a severe neck injury during a game, she decided to retire from rugby.
With 13 seasons of impact, even a break from the sport gave her little relief from unbearable headaches. As the pain spiraled out of control, her deteriorating mental health began affecting her life. Pain, she realized, was no longer a friend – it became her enemy. 
With encouragement from her wife, Kish was tested at a concussion clinic and completed rehab to help with memory and aphasia. She also began therapy to help with her mental health challenges, resulting in an ADHD and bipolar diagnosis. This discovery was the spark for Kish to share her experience with others.
Kish, now a mental health advocate, was the keynote speaker at BrainsCAN's Research Impact Day – a day to recognize the impact BrainsCAN-supported neuroscience research has on the local and global community.
The concussions Kish experienced presented a firsthand account of the research Ravi Menon, Co-Scientific Director of BrainsCAN and Director of the Centre for Functional Metabolic Mapping, has found on concussions in athletes.
"Our studies showed persistent changes in brain structure and function, even after players had been medically cleared to return to play," said Menon at BrainsCAN's Research Impact Day.
Menon's research also found that rugby players who didn't get a concussion still had long-term changes in brain structure and function – all resulting from the cumulative impacts of the contact sport.
Helping Sport Be Safe
Now looking back on her rugby journey, Kish realized that she didn't give her brain injuries the same respect as the rest of her body.
"When you can see pain, you can understand there is damage," said Kish. "I couldn't see my brain injuries, so I didn't let my brain heal."
Kish is taking that realization to helping the next generation. She is one of four high-profile women athletes donating their brains to the Canadian Concussion Centre in Toronto. The donation will aid with concussion research focused on female brains.
"I think it's really important to donate my brain," said Kish. "There's a lot of research done on men, yet women are at a higher risk for concussions. I want women and girls to be able to play their sport and have more awareness of what that means for their brains. I want sport to be safe." 
For more information on BrainsCAN Research Impact Day, see https://impact.brainscan.ca/conference/.