Highlighting three years of BrainsCAN support
Highlighting three years of BrainsCAN support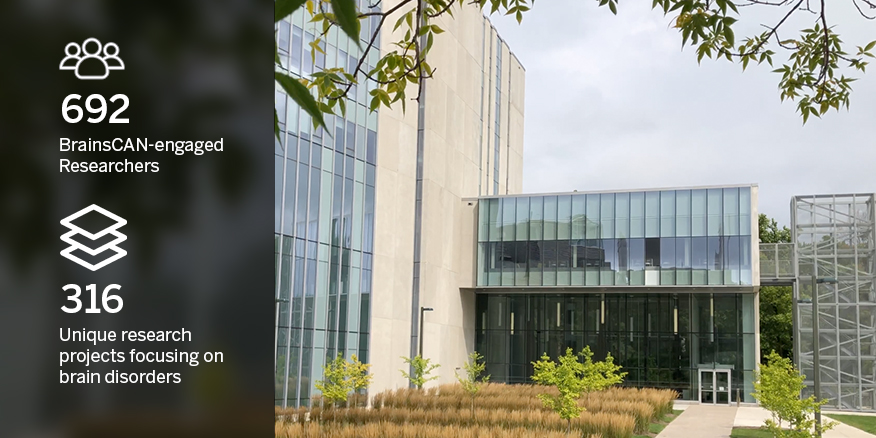 Since 2016, BrainsCAN has funded and supported high-impact/high-reward research to help transform the way brain diseases and disorders are understood, diagnosed and treated. Over the past year, we've added new programs, funded new research and supported open science projects with the goal to reduce the burden of brain disorders.
What's new? 
Granting Program Results
BrainsCAN's Accelerator Internal Granting Program has awarded approximately $3.7 million in funding over three years. The results of the funding were made available on our website earlier this year.
The impact of the BrainsCAN Accelerator program became evident after the Natural Sciences and Engineering Research Council of Canada (NSERC) awards were announced in the spring – results of a previous Accelerator project had led to an NSERC grant.
The inaugural round of the McGill-Western Collaboration Grant was awarded in the fall of 2018, providing funding for seven research projects, totalling $3.4 million, with $1.5 million of the funding contributed by BrainsCAN. 
New Funding Programs
Two new programs were launched this year supporting novel, collaborative and interdisciplinary research in cognitive neuroscience. The programs included the PDF Collaborative Research Grant Program and the PhD Studentship Program, both of which support the next generation of neuroscience researchers. 
OurBrainsCAN
OurBrainsCAN is a central participant registry for cognitive research at Western with the goal to increase community involvement in brain studies. The registry was launched earlier this year by BrainsCAN's Human Cognition and Sensorimotor Core. Since the launch, more than 600 community members have registered to take part in studies, helping BrainsCAN-aligned researchers recruit participants. 
Equity, diversity and inclusion
Equity, diversity and inclusion (EDI) strengthen the research community, which is why it's a key focus of BrainsCAN's strategic plan. This year, we saw the launch of a new Government of Canada, made-in-Canada EDI strategy called Dimensions EDI. We were proud to be part of the consultations for this new strategy.
New Partnerships
Over the past year, we developed three new international MOUs. Partnerships with RIKEN Centre for Brain Science (CBS) in Japan, Yonsei University in South Korea, and Cardiff University in Wales, UK were developed to provide pathways for BrainsCAN-aligned researchers to easily collaborate with researchers from other neuroscience research institutes.
Open Science Initiatives
BrainsCAN-supported open science initiatives were launched this year with the development of Mousebytes, an open access database for cognition, imaging and genomics data integration; touchscreencognition.org, an online touchscreen behavioral research community; and the world's first open-source data sets of NHP brain imaging. These open science platforms were developed to share data and improve our understanding of how the human brain works. 
BrainsCAN by the numbers
692 BrainsCAN-engaged researchers completing over 316 unique research projects focusing on brain disorders.
$3.7 million in funding distributed through the Accelerator Internal Granting Program.
$1.5 million in funding distributed through the McGill-Western Collaboration Grant Program.
BrainsCAN engagement across Western University through 8 faculties and 35 departments.
27 promising early career neuroscientists recruited as BrainsCAN Postdoctoral Fellows.
46 transformational projects funded to date.
122 external collaborators from 64 institutes engaged in BrainsCAN-supported research.