BrainsCAN Year Five Highlights
BrainsCAN Year Five Highlights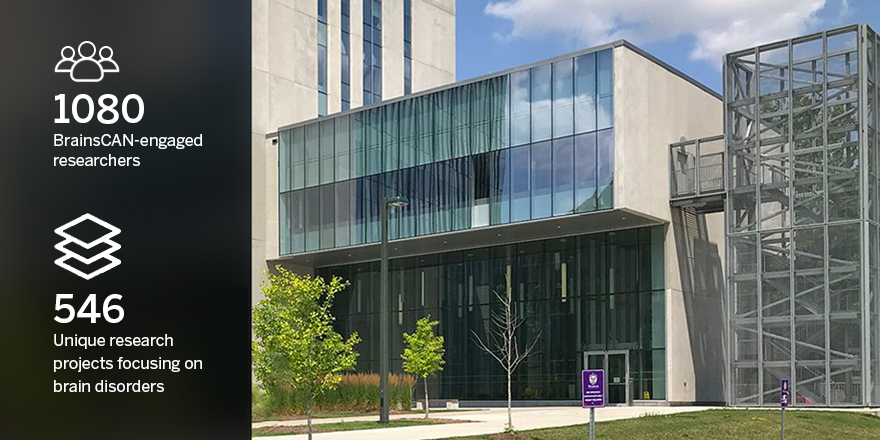 Five years ago, BrainsCAN received funding from the Canada First Research Excellence Fund (CFREF) to support high-impact/high-reward research with the goal to transform the way brain diseases and disorders are understood, diagnosed and treated. Since that time, we've brought together researchers from all levels of the nervous system to accelerate important brain discoveries.
This past year, we added a special call to our Postdoctoral Fellowship Program, launched an undergraduate internship program, granted more internal funding awards, and developed new international research collaborations.
What's new? 
Granting Program Results
BrainsCAN's Accelerator Internal Granting Program has awarded approximately $4.43 million in funding over five years. In early March 2021, the eighth round of the awards were announced, with two new, two-year projects receiving funding.  
BrainsCAN Accelerator grants are meant to address key obstacles in research projects, allowing a larger, transformative program to proceed. Reporting demonstrates this has worked. Over the past five years, BrainsCAN-supported research has led to 155 successful external grants totaling $65,077,290.
New Funding Programs
In late 2020, the first round of the BrainsCAN Research Excellence Award was held. This internal funding program supports and increases the external funding competitiveness of excellent but unfunded applications to the CIHR project grant competitions. It is designed to support projects for up to one year until the next opportunity to re-apply to the external funding competition is available. One award was granted in 2021. 

Earlier this year, BrainsCAN released its Registered Reports Funding Program to support researchers using the Registered Reports format, where the background to a study, the hypotheses and analyses plans are peer-reviewed before data collection occurs. The aim of this program is to fund the research expenses associated with data collection once a Registered Report has received an 'acceptance in principle' from a journal. The first round of this program was held in May 2021 with ten successful applications.
Equity, Diversity and Inclusion
In order to attract a diverse cohort of the world's most promising early-career neuroscientists, BrainsCAN launched a special call of its Postdoctoral Fellowship Program in fall 2020. This special call aimed to attract early-career neuroscientists in marginalized groups. The pilot round identified 11 exceptional candidates who were given awards, resulting in a substantial increase in groups underrepresented by the program.

In spring 2021, BrainsCAN launched the Diversity in Neuroscience Summer Internship program to support undergraduates interested in neuroscience. The program provides Western University undergraduate students who self-identify as Black, Indigenous, LGBTQ2S+, with a disability, or as a woman, an opportunity to have an immersive experience in a cognitive neuroscience research environment. Seven undergraduate students were awarded an internship this summer.
New Partnership
BrainsCAN added to its list of growing international partnerships this past year with a collaboration with the UK Dementia Research Institute Ltd. (UK DRI). This is the fifth institution to partner with BrainsCAN to advance cognitive neuroscience research.
BrainsCAN by the numbers
1080 BrainsCAN-engaged researchers
546 unique research projects supported through five BrainsCAN Research and Innovation Cores (RICs)
$4.43 million in funding distributed through the Accelerator Internal Granting Program
BrainsCAN engagement across Western University through 8 faculties and 33 departments
67 promising early career neuroscientists recruited as BrainsCAN Postdoctoral Fellows, Graduate Scholars and MD/PhD students
180 external collaborators from 94 institutes engaged in BrainsCAN-supported research