COMP Staff
Suzanne Witt
Neuroimaging Analyst
Suzanne facilitates other researchers' fMRI research. She works with researchers who have a vision and helps them figure out how to make that vision a practical reality.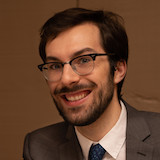 Tristan Kuehn
Open Science Software Developer

Tristan develops applications and works with researchers individually to support their adoption of Open Science practices, including sharing analysis code and research data in standard formats to facilitate reuse and replication of their work.